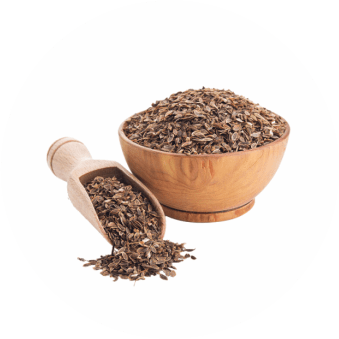 Dill seeds are an annual herb in the celery family Apiaceae. It is the only spices in the genus Anethum. Dill seeds are popular in dry and even in wet state in Europe ana Asia.
Dill seed leaves looks similar to ferns and used widely because of its aromatic qualities. A pinch of this herb changes the entire flavor of dishes. Flavor of Dill seeds are quite similar to caraway. 
Dill seeds are widely grown in Eurasia where its leaves and seeds are used as a herb or spice for flavoring the food.
Dill seeds can be used as garnishing the soups and roasted vegetables.
This seeds can sprinkle on top of cold cucumber salads and also in potato salads or on baked or roasted potatoes.
It can be stir into yogurt-based dips like tzatziki. It can be added into baked breads.
It adds flavor to fish, lamb or egg dishes.
Health Benefits of Dill Seeds :
Apart from being a popular food ingredient with aroma, this seeds are relaxant that also have some great benefits if it consumed in a routine. It is a great source of calcium, therefore it helps in making bones and teeth healthy.
If we suffers from insomnia , then dill seeds can bring your lost sleep back. The consumption of dill seeds smoothens hypnotizes an  individual which results in a comfortable sleep.
It helps in diabetic problems. It is not only wonderful medicine but also helps in building immunity.
Dill seeds help in removing indigestion or diarrhea.
 It also cures the hiccups.
Some of the health experts claim that the Dill seeds help in maintaining the level of insulin in blood sugar.
 Consumption of dill seeds activated the secretion of hormones that results in regularizing and comforting the menstruation cycles.