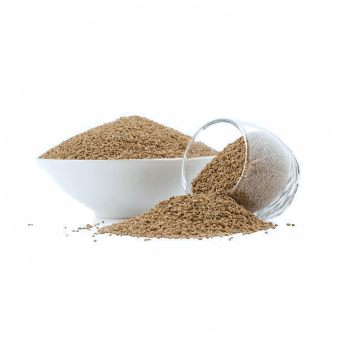 Ajwain Seed also known as Ajowan or Trachyspermum or carom – is an annual herb in the family of Apiaceae. Both the leaves and seed like fruit of the plant consumed by the humans. We are manufacturers, suppliers ajd exporters of Ajwain. we bring the best quality seeds for our customers.
Ajwain Seed grow during the cold season. Annually Ajwain plant grows up to a height of two to three feet. Ajwain seeds are collected by the end of winter or during early spring.
Ajwain seed's color ranges from Olive green to Brown and it looks similar to cumin seeds. The seeds have stripes on the outside surface vertically.
How to use Ajwain Seeds :
Ajwain seeds are used to prepare traditional Unani and Aryuvedic medicine. Extraction from this seed has been found useful in treating flatulence and indigestion.
This seed are often used in the preparation of savouries in Pakistan, India and Middle-East.
Thymol in ajwain seeds have antiseptic properties. It is used in cough and cold as a remedy. This seeds often used to treat the asthma patients in India.
The seeds of the spices are added to some vegeterian dishes in India. They are also used in pickles along with the other spices such as fenugreek, mustard and turmeric among others.
Health Benefits of Ajwain Seeds :
Ajwain seeds contain the oil named thymol which is essential. This oil has a aromatic fragrance. 
This seed contain small amount of phytochemicals like limonene, cymene, pinene and terpinene.
Thymol present in ajwain help to improve the digestive function.
Thymol  is obtained from ajwain exhibits antifugal, antibacterial and anesthetic properties.
This seed are also rich in fibre, minerals, vitamins and anti-oxidants.