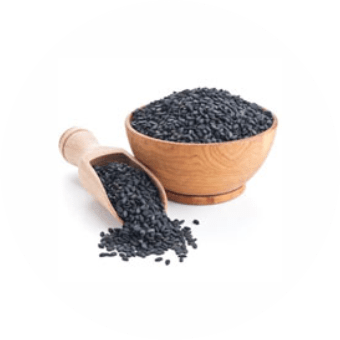 Nigella seeds known as black cumin or kalonji or kalanji or black craway. These seeds are an annual flowering plant in family Ranunculaceae. Mysterious black color of these seeds have numerous qualities. These seeds are obtained from the onion so sometimes it called onion seeds. 
They are widely used in different Egyptian and Indian cuisines due to its magnificent qualities. It has strong aroma which is combination of oregano, onion and pepper. Because it has aroma it is used in pickles and sometimes in curries. It is used to enhance the flavor of different types of breads of International and Indian cuisines. 
Overview of Nigella Seeds
How to use Nigella Seeds :
Nigella seeds are not only used in dietary items but also highly used in beauty enhancement and medical products. These seeds have antiseptic properties which improve the resistance of the body.
Oil of nigella seeds are widely used in combination with other herbs for making different types of medicines which are used to cure the different diseases. Oil is also helps in treating the migraine.
These seeds are helps to vitalize the memory. 
It is used in health related issues like Hair loss, Blood pressure, skin problems, Eye disease, Headache, tootache, constipation, dandruff etc.
It also beneficial for some serious health problems such as Polio, Asthma, Heart attack etc.
Health Benefits of Nigella Seeds :
Nigella seeds is full of nutrients such as calcium, iron, sodium and potassium. It has high rate of unsaturated fatty acids.
The Fatty acid presents in nigella seeds are the base of protein and are beneficial for growth of infants along with the formation of Vitamin A.